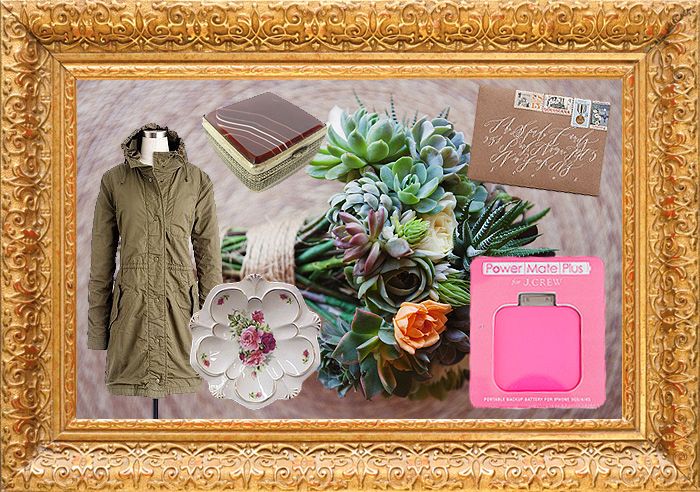 Yesterday was the first of April, and a perfect spring day. With the start of a new month and season, it seems like an awesome time to introduce something new for the blog.
Mood boards are rather popular in the design world, and I have decided to create my own virtual version each month. Whether a new product, solution, or inspiring color schemes, It will give me a chance to put a creative snapshot of what I'm into at this moment, without having to group each thought into a separate category.
This month I find myself drawn to earth tones with a touch of pink - yes, the girl who owns more grey and black than necessary is diggin' pink.
I am planting my succulents this weekend, and would love to see more bridal bouquets filled with them. However, brides might want to get a smaller, less dangerous version for the tossing of the bouquet, or they might end up with a few injured single ladies.
Right now I cannot stop thinking about adding small touches to things used everyday. Vintage oyster plates would be perfect for displaying on a dresser or vanity, which could hold your delicate jewelry, pocket change, or other small findings. Vintage pill boxes would be perfect for holding your mints - re-purpose the less than pretty tins they come in for something around the house you use less often.
It is not unusual for my phone battery to get to 20% by mid-day. The perfect solution when I can't use a charger is the Power Mate Plus; the bright pink version is easy to spot in my purse.
What is inspiring you this spring?