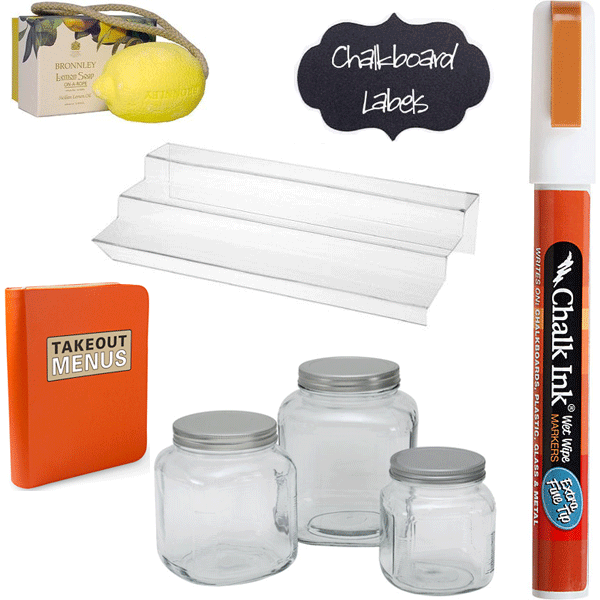 Being someone who likes to cook, I realize that it is essential that the organization of the kitchen also translates to easily accessible. Right now I am currently working on two kitchens for separate clients, that couldn't be any more different. However, there are several go-to products that I would recommend for almost any kitchen.
Take Out Menu Organizer: I have had a take out menu organizer for as long as I can remember. Mine is a discontinued fabric covered binder from William Sonoma that separates the menus alphabetically using divider tabs and sheet protect

ors

. If I was to recommend one that is still available for purchase, this version

via

The Spoon Sisters

is the best I've found out on the market. Of course, if you are in a DIY mood you can always make your own. Simply buy a large 3-ring binder, sheet protectors or binder folders to store

menus, and dividers to separate menus as you see fit (by alpha or food category).
3-Tier Acrylic Cabinet Organizer: The clear acrylic makes this spice rack my favorite. Why makes things look more cluttered by using white rubber or metal? The tier makes it easier to grab what you need when you are channeling or challenging Julia Childs.
Chalkboard Labels: Etsy is amazing, and so are the massive amounts of chalkboard labels people sell. Not only do they give my label maker a much needed rest, but who would have thought writing "Brown Sugar" and "Flour" could be so much fun.
Extra Fine White Chalk Ink Marker: Ok. So writing kitchen ingredients in regular chalk isn't that much fun, but

it is when using

a chalk ink marker. The result is a more precise writing that won't smear, plus you no longer have to hope your chalk doesn't break and get all over the bottom of the junk drawer. Basically you need this if you have anything chalkboard related. If you don't own a chalkboard or chalkboard labels, then go get them so you have an excuse to use this pen.
Bronnley Lemon Soap on a Rope:

Wow. This is the most awesome smelling soap, and the packaging it so pretty I was kind of sad to remove it from the box. However, this stuff leaves your hands feeling so clean with a very light lemon scent.
I shortened my rope a tad and hung it from the sink faucet. Bonus points for finding it on sale at the local West Elm store, and scoring an additional 15% off for Presidents Day. Side Note: Bronnley made this soap so it could be used on the entire body, so I bought an extra to use in the shower during the summer months.
Glass Jars with Aluminum Lids: These are perfect for flour, sugar, rice, etc. You can find these same ones at Target, and can save 5% if you use the Target Red debit or credit card. Not into having everything too matchy? Try mixing things up by adding a few Mason or Ball jars. Just make sure whatever you use is something with a screw on lid, to ensure the product inside is kept fresh and free from moisture and bugs.