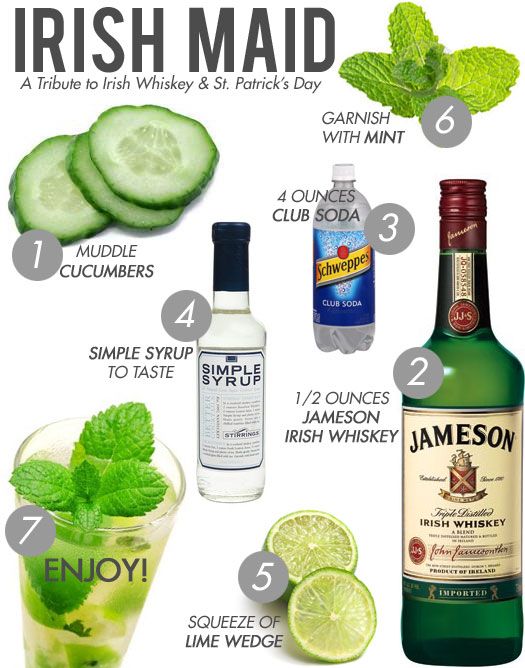 Top o' the morning to ya! Tomorrow is St. Patrick's day, which I consider the merriest of holidays.
I'm also part Irish

.

So to me it makes sense to celebrate and have a little fun with it. Today they are hosting an all-day festival near my house, and I have decided to have a small party beforehand. Of course, my specialty drink is a bit more tasty than anything involving green food coloring.
The Irish Maid is a distant cousin of the Kentucky Mule with the lime and whiskey, but has the simple syrup and mint influences from the traditional Mojito. The cucumber and Irish whiskey in this drink add a more unique taste, without losing its appeal (hence the reason it will be the drink of choice). On a side note, I am making my own simple syrup using Spenda instead of using a store bought version. I am a big believer that if I am going to load up on sugar it should be from eating cake - not from drinking a beverage.
The menu includes Corned Beef Sliders with my own homemade coleslaw, Cheese & Guinness Fondue, and a large amount of sweets in a rainbow of colors (pot of gold not included).
Enjoy your weekend....Cheer

s!