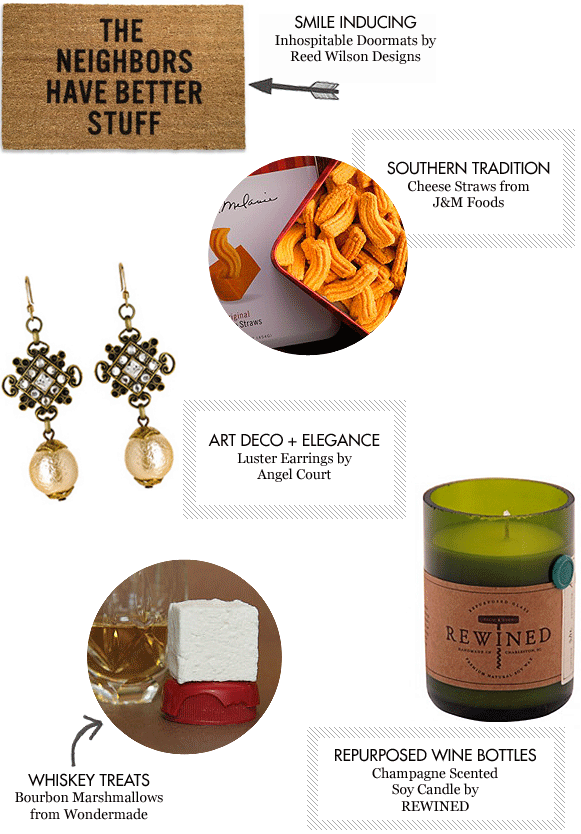 So without giving away all the details, I am thrilled to tell you that I was asked to write a little something for the "Southern Stories" section of the Bourbon & Boots website. You can read my story later this month, but until then you should definitely check out their site for other good reads and awesome products.
Now if you read the above and the only thing that c

omes

to mind with the mention of Bourbon & Boots is (1) an awesome beverage choice and (2) spectacular footwear, then you have a pleasant surprise in store for you. Basically, a bunch of southerns (and one

y

ankee) located in my hometown are working to bring high-quality "small batch" creations from small business owners. While most of the goods featured are created by those living south of the Mason-Dixon line, they do a good job of including artisans from "everywhere else" if the product is of quality craftsmanship.
Reed Wilson Designs - "The Neighbors Have Better Stuff" Doormat: While it may not be true, it certainly has evoked more than a few laughs from friends and family. Side Note: They are super thick and do an excellent job as a doormat.
J&M Foods - Cheese Straws: I have been eating these since I was a kid. Whenever my parents had one of their parties, these were always out with the appetizers. The company is based not far from where I grew up so you might think I am biased, but they beat out the competition hands down.
Angel Court - Luster Earrings: Oh so lovely. Of course, that is no surprise when you are talking about anything by the lovely ladies at Angel Court.
REWINED - Champagne Scented Soy Candle: Everything about these candles

is

awesome - soy wax, cotton wick, recycled wine bottle, and hand pressed label. Did I mention they smell good, too? The champagne is my favorite. Even when it isn't lit, the scent is intoxicating (pun certainly intended). The Pinot Nior is next on my list.
Wondermade - Bourbon Marshmallows: No surprise that a company with bourbon in the name has something with bourbon for purchase. I am dying to try these. Marshmallows are not my favorite sweet, but the bourbon certainly shouldn't hurt things.